Trip Facts
| | |
| --- | --- |
| Trip Duration: | 20 days |
| Max. Altitude: | 5300 |
| Grade: | Moderate |
| Accommodation: | 2/3 star in cities and lodge on trek |
| Meals: | Breakfast in cities and Full board on Trek |
| Transportation: | Private vehicle/Local Bus |
| Minimum Pax: | 2 pax |
| Best season: | March-May and Sept- Nov |
Overview
Manaslu region is located in the western part of Nepal; Mt. Manaslu at [8163m] is the eighth highest peaks in the world which opened its routes for trekking only in 1992 AD, It is located near to the border of Nepal alongside Tibet, the name Manaslu literally means "The spirit-mountain"; the local jargon refers it to be the compassionate and strong deity that mysteriously dwells within its domain.
The Manaslu circuit is a well-known and much loved trail in Nepal's Himalayan landscapes, which provides great views of some of the highest mountains in the world, giving this area a heady mix of rich cultural heritage, a genuine outing in the outback, incomparable beauty and biological variety that's amazing. It is no doubt that the trekking in the Manaslu Himalaya region is one of those delightful adventure treks in Nepal where along the way you will be rewarded with magnificent views of the Annapurna Massifs and Dhaulagiri peaks that's literally gratifying to the soul.
Mt. Manaslu located in the east of Annapurna Himalaya range and trekking within the Manaslu circuit is a controlled & government regulated issue because it's a restricted trek area as well, consequently, permission must be taken prior to organizing treks in this region and the trekking in the Manaslu area has been considered to be one of the finest adventure destinations in Nepal for those looking for the unusual experience in sublime territory where one can enjoy breathtaking views of the imposing Himalayas stretching beyond horizons, & as we hike our routes we come across cultural diversities and natural scenery with high altitude dreamy glacier lakes and enthralling floras and faunas, which inherently make up all the features when trekking in this unspoiled less trodden Region.
We at Outfitter Nepal Treks and Expedition have 18day itinerary for the Manaslu Circuit trek and the itinerary includes your arrival and departure days to and from Nepal, plus a day tour in Kathmandu and our real trek starts with a day drive from Kathmandu to Arughat and following the version trail to the Larkya pass at (5420 m.) after passing the Pass; we continue trekking to the Annapurna trails for our return to Syange & then drive back to Kathmandu through a scenic highway more over if you have longer days and want to continue trekking to the Annapurna circuit trail from Dharapani, and now, teahouse lodges are beginning to take shape along the route, so small groups can do the trekking in this region teahouse style as well however if you have bigger group about 10 or more people then we need to organize the trek in camping style and we organize both styles for those who want camping & a feel for the true wild & also offer options for the rough & tough teahouse lodges for those who are happy with basic facilities & more focused on the wonders of the wilderness.
We have given the itinerary, cost and the services for the Manaslu trek on tea house style and there should be minimum 2 or more people to obtain the special trekking permits for the Manaslu trek however we have fixed some dates for the trek so, you are welcome to join on our group trek even if you are single and planning to trek in the region.
Day 01: Arrive at Kathmandu airport and transfer to hotel.

Day 02: Full day sightseeing of Kathmandu valley.

Day 03: Drive from Kathmandu to Arughat Bazaar.

Day 04: Trek from Arughat Bazaar to Soti Khola.

Day 05: Trek from Soti Khola to Machha Khola.

Day 06: Trek from Machha Khola to Jagat.

Day 07: Trek from Jagat to  Ngyak.

Day 08: Trek Ngyak to Ghap.

Day 09: Trek Ghap to Lho.

Day 10: Lho to Sama Gaon.

Day 11: Trek from Samagaon to Samdo.

Day 12:Acclimatizing day.

Day 13: Trek from Samdo to Larkhey Phedi

Day 14: Trek from Lharkey Phedi to  Bhimtang

Day 15: Trek from Bhitang to Tilje

Day 16: Trek from Tilje to Tal

Day 17: Tal to Bhaundanda

Day 18: Bhaundanda to Bhesisahar

Day 19 : Drive back to Kathmandu.

Day 20 : Departure
Day 01: Arrive in Kathmandu
Upon arrival, you will be greeted by our friendly representatives and transferred to you hotel in Thamel.  Free & easy for your sightseeing around Thamel, the tourist area and follow by a welcome dinner.
Day 02:Sightseing in Kathmandu
After breakfast, depart for a cultural and historical Kathmandu city tour :-
– Swayambhunath (For eyes temple), a hilltop temple in the middle of the Kathmandu valley.
– Bouddhanath Stupa, one of the biggest stupa in the world.  Its four pair of eyes in the four cardinal directions is keeping watch for righteous behavior and human prosperity.
– Pashupatinath Temple, one of the holiest Hindu temples dedicated to Lord Shiva setting on the bank of the sacred Bagmati River.
– Kathmandu Durbar Square.
Day 03: Drive from Kathmandu to Arughat Bazaar
After the breakfast at Hotel in the early morning at around 8.00 am to pick you up, from there we'll have an 6-7 hour depending upon road condition driving journey to Arughat. Overnight at guest house.
Day 04:  Arughat Bazaar – Soti Khola
After the morning breakfast, we'll start our journey following the Budhi Gandaki River toward its point of origin. We'll be passing the village of Morder and Simre to reach at Arkhat River. Then we ascend slowly towards Kyoropani. Camp today nears the confluence of Seti River overnight at gust house.
Day 05:  Soti Khola – Machha Khola
The trail sha Kholatar descending slowly until you climb again to mountain ridge to Almara. Then Pass forest trail to arrive at the village called Riden Gaon. The valley here cuts into another side of the river to enter Budhi Gandaki. Then at Lambesi, the trail follows down to the sandy river bed of Budhi Gandaki. overnight at guest house.
Day 06: Machha Khola  – Jagat
After crossing Machha River and Khrola besi, there is a hot spring , The trail follows forested area after towards Dovan. Below Dovan, there is a huge rapid at Budhi Gandaki. As the elevation increases, the rapids and the scenery undergoes a complete transformation. overnight at guest house.
Day 07:  Jagat – Ngyak ( 2310m)
After ascending to a terraced hill of Saguleri and view of Sringi Himal (7177 m) can be seen from very near. Then we continue towards Sirish Gaon, Gandaki valley narrows from herewith soaring precipitous walls. overnight at guest house.
Day 08: Ngyak – Ghap ( 2100m)
We'll be following the trail upstream of Deng River – a tiny village of 4 houses. We walk through a newly built rock tunnel from here, thus avoiding the traditional steep climb. At Ghap, the Tibetan culture begins with Mani stones and Chortens all around. overnight at guest house.
Day 09: Ghap – Lho ( 3200M)
After crossing the wooden bridge over the river Budhi Gandaki, we follow the path lined with houses that are interspersed with cultivated fields. At Namru, there is a police check post and again our permit and belonging will be checked if necessary. After Namru, across the Hinan river originating from Linda Glacier and continue on to Sho astonishing view of Naike peak, Manaslu north (7,774m) and Manaslu (8,150m). overnight at tea house.
Day 10: Lho –  Sama Gaon ( 3500m)
Walking along with upper reaches of Lho, with the view of snowy peaks Manaslu ahead of us, we pass the new Monastry then ascend through light forests next to a small river to reach the Tibetan settlement village called Shyla, where the villagers are often out in their fields. Another few hours of trekking through classic alpine scenery leads us past Tibet grazing settlements, the train to Pung Gyan Gompa, and then Sama Gaon, or Ro, as the locals call it as. Sama Gaon sits in a bowl at the foot of the pastures leading to the high peaks, with mani walls, a small gompa and tightly packed rows of houses at the lower reaches of village, and the large gompa at the upper reaches. The people settled here from Tibet over 500 years ago, and the two gompas date from this time presents till today, both having unique architecture and built of pure wood. The Tibetan villages here have entrance gates which are very distinctive from the Tibetan ones, and they maintain an active trade with their co-religionists in Tibet (notice the Chinese brandy and beer on sale). If the weather is good, you will see the village women weaving wool (baal) from Tibet into gowns – which are then traded back to Tibet. Taxes were actually paid to the Dzongka Dzong (fortress) at the border of Tibet, a few days walk from Sama Gaon, as late as the 1940's until it was taken over by the Gorkas in the late 19th century. Later, after 1959, the region was home to Tibetan guerillas, and thus closed to trekking until 1992. At afternoon hike up to the gompa above town, and to wander the streets of the fascinating Sama Gaon village.
Day 11: Sama Gaon – Samdo (3850m)
Another day of incredible mountain views during the walk up to Samdo, an easy three hours trekking. En route we pass the long mani walls at Kermo Kharka, after which we spot the entrance chorten of Samdo high on a bluff. We descend back to the Bhudi Gandaki and cross a small bridge before another short climb to the 'kane' entrance of Samdo; look back down valley for great views. The villagers of Samdo came across the border from the village of Riu after 1959 ad and built their new village here, at their old herding settlement. Samdo village is a collection of houses and lodges at 3850 m, and most trekkers miss the heat of a week ago as we huddle around the stove and a wind from Tibet batters the windowpanes. Get out and take a walk around the village, where the inhabitants live an essentially Tibetan lifestyle, herding their yaks, sheep and goats, training their horses and planting barley. There is a small home Gompa in a house mid-village which we visited during our last village, a puja being held by several of the reincarnated lamas living in the Samdo.
Day 12: Acclimatizing Day ! 
We will have acclimatizing ourselves. It is recommended that your body acclimatizes to the high altitude and be adjusted for higher altitudes in the days to follow.
Day 13: Samdo – Larkhey Phedi (4460m)
After breakfast at tea house, we will continue our trek to Larkhey Phedi, this is  trade route to Tibet and climb through the ruins of Larkhey bazaar, one of the trade markets that flourished years back. After two hours of climbing passing glaciers, with increasingly awe-inspiring panoramas, we come to the campsite at Dharamsala, where we have lunch and gaze out at the views. You'll really feel the altitude and the cold here, so enjoy a more leisurely afternoon and keep warm. We'll have an early dinner in preparation for our pass crossing tomorrow.overnight at tea house.
Day 14: Cross the Lharkey La (5215m) – Bimtang ( 3590m)
After a short climb above the campsite, we reach the valley on the North side of the Larkya Glaciers where we have views of Cho Danda and Larkya Peak. We continue across the moraines of the glacier, making a gradual ascent which becomes steeper only in the last section to the pass, which take us about three hours to summit. From the pass, there are outstanding views of Himlung Himal, Cheo Himal, Kangguru and the huge mountain Annapurna II. If there is fresh snow, we may see Snow Leopard prints from the evening before; it's also blue sheep (Bharal) and Tibetan Snow Cock territory. The views from the top of the pass are truly astonishing. After hanging our Tibetan prayer flags, and yelling 'Ki ki so so lha gyalo' (may the Gods be victorious), get ready for a steep, ankle straining drop to a trail following the glacial moraine, very slippery if covered in snow so have your 'Yak tracks' ready if you've brought them, and definitely use trekking poles. It is a longer day then usual to our campsite at Bimtang, but to walk into these low pastures with the evening mist coming in and Manaslu, it's an experience of lifetime not to be missed. A boulder-strewn descent brings us, finally, to Bimtang, overnight at tea house.
Day 15: Bhimtang – Tilje ( 2500m)
The route gets easier from today , We start with a gentle climb through paddy fields towards the small Karcha La pass and descend through fig tree and rhododendron forests to Tilje. overnight tea house.
Day 16: Tilje – Tal (1725m) 
Follow the trail downstream of Marshyangdi River, passing through the scattered villages to reach Tal village a settlement near Marshyangdi River for overnight stay.
Day 17: Tal – Baundanda ( 1275m)
Ascending gently for 30 minutes and the trail runs gently down to Sanjee village, then trail goes up for 15 minutes to Gharmuu Phant. From here another 2 hours easy walk and 30 minutes up will take to the village of Bahundanda. overnight gust house.
Day 18: Baundanda – Beshisahar
Today is the last day of our trek, and a hot, five hour walk through gentle, muted hills and colorful villages to Bhulbhule and Khudi, where we will meet our transport back to Besi Sahar.
Day 19 : Drive back to Kathmandu
After the successful our trek,  return to Kathmandu from Besisahar by Bus. You can spend time resting/buying souvenirs back to home. overnight at hotel.
Day 20 : Departure – sweet home.
Cost Includes
All the airport transfers.
Guided sight tour in Kathmandu as per the above itinerary.
Three night accommodation in Kathmandu including breakfast.
Transportation by bus Kathmandu-Arughat and Bhulbhule -Kathmandu.
Your standard meals (Breakfast, Lunch and Dinner) during the trek.
All necessary paper works and conservation entry permits and restricted area permit.
 All accommodations in lodges/tea houses during the trek.
An experienced, helpful and friendly Guide and porters (1 porter for 2 peoples).
Salary, food, drinks, accommodation, transportation and insurance for the guide and porter.
Arrangement of Emergency Helicopter service which will be paid by your Travel insurance company.
Sleeping bag, down jackets and trekking map, if necessary (return after the trek).
All government taxes, VAT and Service charge.
Cost Excludes
Notes :
For customized and personalized trek as per your request that meets your travel need, please kindly send us your requirement. Please feel free to contact us for further information or require any clarification, we look forward to hear from you, so that we can discuss further plan to make your trek easy. For further information, please feel free to write us at
goldenhztreks13@gmail.com
or WhatsApp +977 9851157959
Related Packages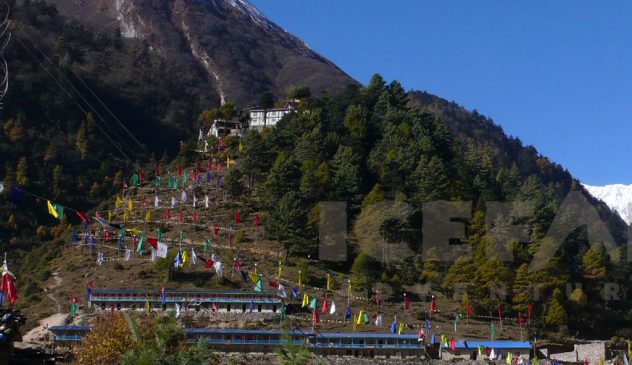 Destination: Manasalu Region
Trip duration: 27 days
Minimum Pax: 2 pax
Max Altitude: 4.030m/13.218ft
Explore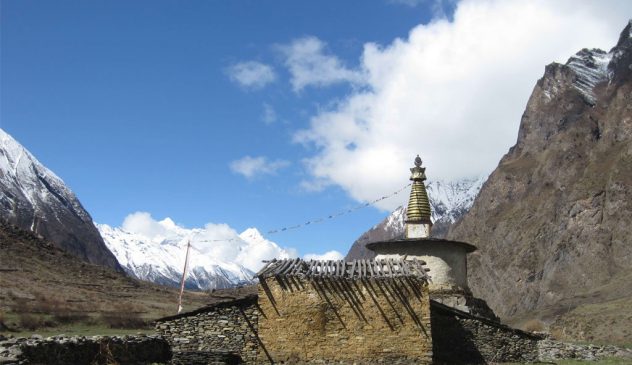 Destination: Manasalu Region
Trip duration: 19 days
Minimum Pax: 2 pax
Max Altitude: 3,700m/12,136ft
Explore